When Mayor Greg Fischer took office, he set three goals for Louisville – pillars of community life. He said we must be a city of lifelong learning, of health, and of even greater compassion. His signature compassion event is the annual Mayor's Give a Day Week, in which the entire city makes time for volunteering, service and compassion.
Mayor Greg Fischer calls on local citizens, companies and organizations to give back to the community during the annual Give a Day volunteer week of service, which is held each year in April.
Welcome to the starting point for our annual Mayor's Give A Day Week of Service (MGAD). Whether you give an hour, a day, donate blood, give food, clothing or simply help a neighbor, everyone can do something! Thanks for helping make Louisville the most caring and compassionate city in the world!
– Mayor Greg Fischer
The Clubwomen of GFWC KY Third District joined together to participate in the Mayor's Give-A-Day event. Our goal was to provide gift bags for nursing home residents, especially those residents who have no contact with the outside world and nearly no visitors.
Each Third District club donated one or two specific items with which to fill each bag. On April 17 the clubwomen from all clubs gathered together to assemble the bags. As an added treat, Louisville Mayor Greg Fisher stopped by to say hello and participate in the day of service.
After the event, a group of clubwomen visited the nursing home residents to present them with the gift bags and a smile.
Click on any photo to view in larger carousel format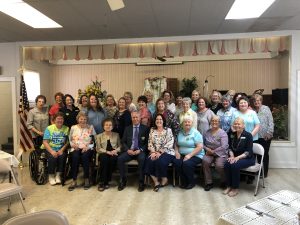 2019 Give-A-Day Notable Numbers.
Give A Day Week of Service made a big impact on the city and amounted to more than 235,000 acts of volunteerism and compassion during the week that ended Saturday, April 20, 2019. That surpassed Louisville's own 2018 world record of about 205,000 volunteers and acts of compassion.
327,699 total volunteer hours given to projects during Give A Day Week 2019
38,000 pounds of food donated through Kroger and Dare to Care food drives
17,456 Brightside volunteers cleaned up neighborhoods and parks in Louisville
4,400 thank you notes written by Global Game Changers
$800 raised by Lucy Lu Bakes' online bake sale with proceeds going to Scarlet's Bakery
198 units of blood donated at Red Cross blood drives
158 beds built for JCPS students
Learn more about General Federation of Women's Clubs
GFWC Kentucky Click Here
GFWC International Click Here