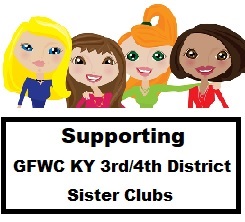 Okolona Woman's Club
The Okolona Woman's Club cordially invite you to attend a silent auction on Tuesday, April 5th, 2022, supporting Habitat for Humanity and other special projects. We will open the doors at 6:30 p.m. and provide light refreshments. There will be no meeting that evening but a short presentation of a check to LMPD Foundation in a member's husband's memory.
The silent auction will be at the clubhouse at 9017 Preston Highway, 40219. We have many baskets, individual offerings, and tons of gift certificates for you to bid on. Hope to see you there. If you have any questions, please call Linda McFarland at 649-8276 or 964-0278!
* * * *
Due to Covid and associated variants, many clubs have postponed or minimized events.
We encourage everyone to follow CDC, Federal, State, and Local recommendation to keep yourself and others safe.
To access the CDC website for current information CLICK HERE
Learn more about General Federation of Women's Clubs
GFWC Kentucky Click Here
GFWC International Click Here