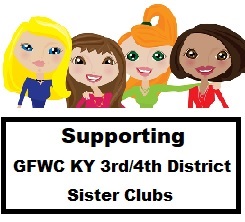 Okolona Woman's Club
OFFICIAL CALL To the GFWC Kentucky Third/Fourth District
2022 Summer Workshop, August 13, 2022
Okolona Woman's Club
9017 Preston Highway
Louisville KY 40219
Dear GFWC Kentucky Third Fourth District Club members,
This summer workshop is going to be very informative, and I would like to see all Club Presidents, Chairpersons, New members……EVERYONE there. At this workshop we will be sharing the information that was learned at the state workshop.
There will be NO registration fee.
Lunch will be BYOL (BRING YOUR OWN LUNCH).
$5 Mystery Bags (Value of each bag at least $5).
One or two $1 games.
Call to order will be at 9:00, break for lunch at 11:30, workshop ends at 2:00.
In order to get a head count of who to expect, please call Mary Baisch at 502-407-6975 or email het at mtbaisch65@gmail.com by August 10.
* * * *
Due to Covid and associated variants, many clubs have postponed or minimized events.
We encourage everyone to follow CDC, Federal, State, and Local recommendation to keep yourself and others safe.
To access the CDC website for current information CLICK HERE
Learn more about General Federation of Women's Clubs
GFWC Kentucky Click Here
GFWC International Click Here