March of Dimes Prematurity Campaign
he March of Dimes Prematurity Campaign aims to reduce premature birth in the United States and to give every baby a fair chance for a healthy full-term birth. Yet this fair chance is not reality for all babies. The preterm birth rate rose to 9.8 percent in 2016, up 2 percent from 9.6 in 2015, marking the second consecutive increase after steady declines over the previous 7 years. The March of Dimes Premature Birth Report Card reveals racial/ethnic and geographic disparities signifying that babies have a higher chance of a premature birth based simply on race/ethnicity and zip code.
In 2017, the March of Dimes convened the Prematurity Campaign Collaborative to address the persistent health inequities and rising rate of preterm birth in the United States. Through the Collaborative, hundreds of organizations and experts work together on the shared challenge to "Achieve Equity and Demonstrated Improvements in Preterm Birth." If you'd like to join the Collaborative or receive its newsletter, send an email to collaborative@marchofdimes.org.
Learn more about the March of Dimes: Click Here
WCSM Members show their support for cause.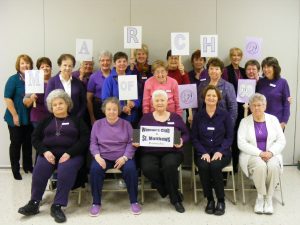 Click on photograph for a larger view.
Learn more about General Federation of Women's Clubs
GFWC Kentucky Click Here
GFWC International Click Here