In 2016, The Woman's Club of St. Matthews (WCSM) members were discussing possible programs that we could participate in, and with, that would reflect our concern for the necessity of Conservation. At the time, one of the members suggested that we volunteer at a place called Supplies Over Seas, or SOS as it is referred to in conversation.
During discussion our club members learned that there is no standard tasks at SOS. Any visit could be sorting items, folding items, or counting items, but usually never the same items. Additionally, SOS provided stand up and sit down jobs, which would accommodate all of our members, for numerous reasons.
For those who are not familiar;
Supplies Over Seas is a Louisville, Kentucky-based Medical Surplus Recovery Organization (MSRO), one of just fifteen organizations of its kind across the United States, and the only organization of its type in the immediate region.
Their Mission is to meet the critical health care needs around the world with surplus medical supplies and equipment that would otherwise go to the landfill.
SOS relies on the generosity of donors and volunteers; it receives no government funding. 95% of the materials SOS receives are donated, repurposed, or recycled.
Did you know?
Hospitals in the United States generate nearly 6 million TONS in medical waste each year. A large portion of this waste consists of unused and "under-used" medical supplies and equipment.
The World Health Organization estimates that every year more than 6 million children die before their fifth birthday, largely due to inadequate medical care.
So how does SOS Volunteerism assist in meeting these needs?
Over the years SOS has recovered more than 850 tons of usable medical supplies and equipment serving communities in 100 countries, including the United States.
SOS volunteerism additionally makes a LOCAL IMPACT.
Educationally
SOS support medical education by providing expired materials as they train upcoming health providers.
To assist those in need,
SOS supports regional shelters and organizations by providing personal hygiene items not appropriate for international distribution.
Not to forget the Welfare of our Animal kingdom,
SOS supports regional animal welfare organizations by providing expired supplies to free and affordable animal welfare groups.
The members of the WCSM made that initial visit to SOS on September 26, 2016, and by the end of our 2 hour shift, our members agreed that we were bonded with the organization. We not only found that the experience was rewarding and worthwhile, but that it was a fun time for our members to work alongside of each other and get to know one another more intimately. Since that initial day of volunteerism, the members of the WCSM have made volunteering at SOS a monthly mission of service. Any club member who has served once, has returned to serve again.
We are serving our local community, our state, our country and our world. With just 2 hours of our time, the same amount of time it takes to watch a typical movie, we made a difference in the lives of others and in our own lives as well. We and the world around us will not be the same, as just 2 short hours before.
Woman's Club of St. Matthews continuing effort to promote Conservation and International Outreach efforts.
Health and Hope Breakfast
On Wednesday, March 22, SOS held their annual Health & Hope breakfast. Representing WCSM were Fran Evola, Marla Thomas, and Carol Leow (see photo below). Informative, uplifting and inspiring are only a few of the words that describe this gathering. WCSM should be so proud of the volunteers that participate in the mission of this organization. All volunteers are invited and acknowledged. The breakfast was no charge. You will be inspired to donate and any amount is welcome.
Hope for the world straight out of Louisville ❤️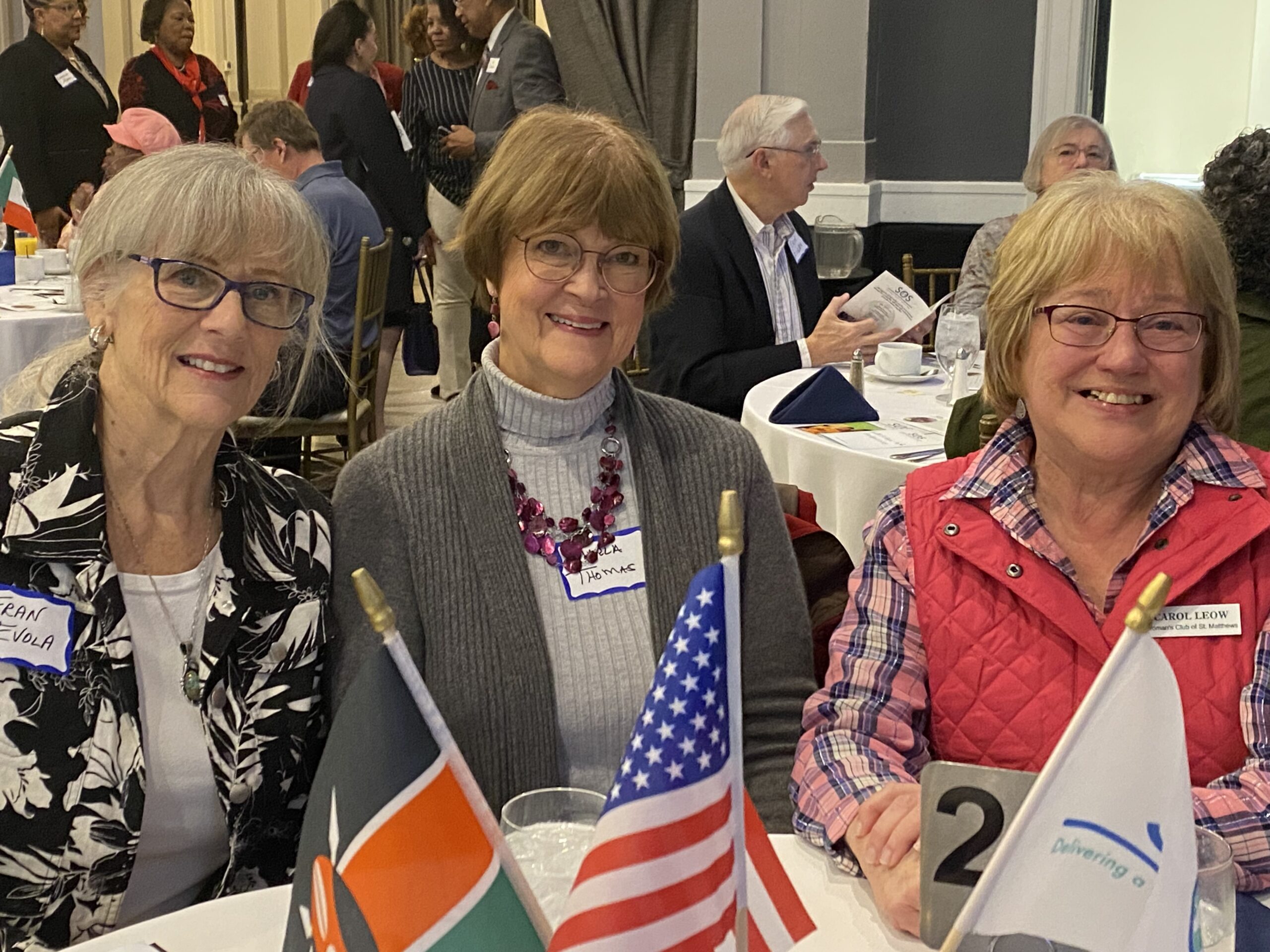 In April SOS sent out a request for personal items for the tornado victims across the country. The group of volunteers came through and brought 105 pounds of items. Great job volunteers!!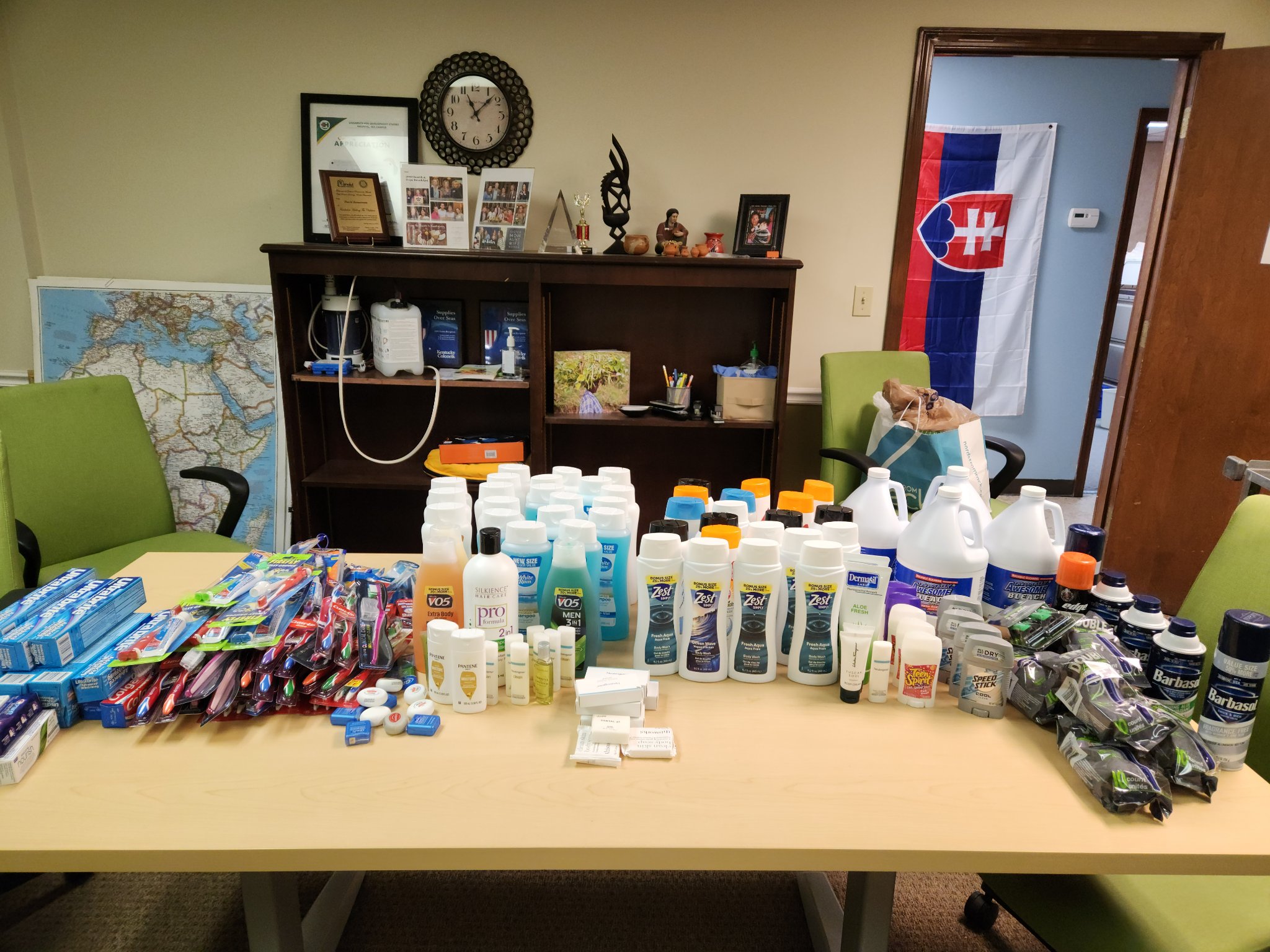 Some of the WCSM clubwomen who have volunteered over the years.

Click on any photo to view in larger carousel format
Clubwomen Tour the Facility
Our Visits to Supplies Over Seas
For More Information about Supplies Over Seas Click Here
Learn more about General Federation of Women's Clubs
GFWC Kentucky Click Here
GFWC International Click Here